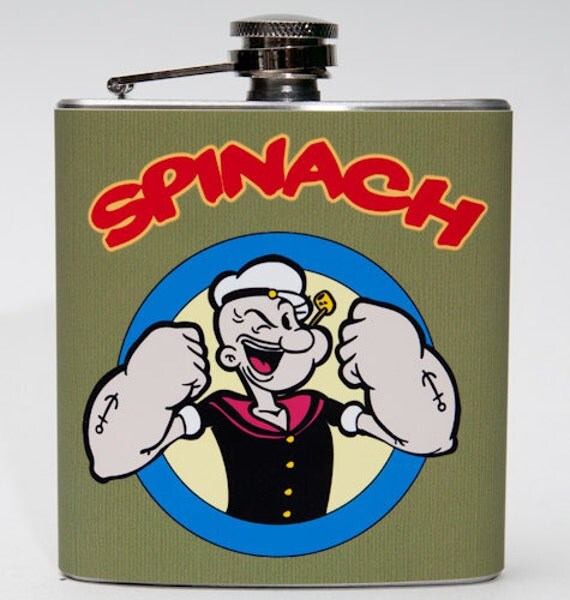 You don't have to be drunk to enjoy spinach, but it probably can't hurt. On etsy.
I shared with you a few weeks ago news about our
first foray into eating mostly vegetarian
, and wanted to update so you'd know if you should still send us that Omaha Steaks gift certificate for next Christmas.
Well, we're still in it! Maybe not to "win it", but by and large, it's still a mostly vegetarian kitchen here. We had a few meaty meals when we were on the road last weekend, but I think we were both (the kids don't notice, really, so they don't count) kind of relieved to get back to our new normal. Last night we had omelets for dinner and tonight it's Mexican night with an awesome bean filling for everything. Easy peasy (and cheapy). Vegan, on the other hand... yeah, we really enjoy eggs and cheese (though we have greatly reduced our cheese intake). Some things wind up being vegan but it's not our goal at this juncture.
I haven't taken pictures lately because I'm lazy, but here are some pics that look very close to some of the things we've tried. I'll even put in a couple of recipes because I'm a regular Betty Crocker over here.
Green Smoothies
Sounds gross. Looks vaguely gross. Smells questionable. But somehow, through some miracle of plant science, a good green smoothie is delicious in a chartreuse kind of way. We tried two kid-friendly varieties in the past few weeks:
Creamsicle Green Smoothie
1 cup water
1 cup Rice or Almond milk
2-3 LARGE spoonfuls of Orange juice concentrate
1 Large bunch of Spinach
1 teaspoon vanilla
Frozen Peaches (about 2 cups)
Place all ingredients in blender. Blend until nice and smooth!
Personal observation: our frozen peaches were pretty tart and made the drink a little too tangy, I think. Fresh frozen or chilled, ripe peaches might help to cut that a little.
Peanut Butter Chocolate Green Smoothie
Check out this great site for veggie recipes.
2 cups Rice or Almond milk
2 LARGE handfuls of spinach
2 Heaping Tablespoons all natural peanut butter
2 Tablespoon honey
2 or 3 bananas frozen
Ice enough for a good consistency I usually do a glass full
1 small handful of carob chips
Place all ingredients except carob chips in the blender and blend until smooth. Then add the carob chips and pulse until smooth.
*****
In case you're skeptical, the spinach taste blends right in, and adds a fresh undertone (we used fresh, not frozen - I think frozen would have a more concentrated spinach-y flavor). My boys are green-skeptical, but call it ice cream and they'd probably eat a Volvo.
Here is the Mexican filling I've been using. We actually like this more than the typical meat filling we'd been doing on taco night. I put it in tacos, quesadillas, and our favorite, taco salads.
Vegan Bean Filling
1 tablespoon olive oil
1 onion, diced
2 cloves garlic, minced
1 bell pepper, chopped
2 (14.5 ounce) cans black beans, rinsed, drained, and mashed
2 tablespoons yellow cornmeal
1 1/2 tablespoons cumin
1 teaspoon paprika
1 teaspoon cayenne pepper
1 teaspoon chili powder
1 cup salsa (we like Herdez hot)
Heat olive oil in a medium skillet over medium heat. Stir in onion, garlic, and bell pepper; cook until tender. Stir in mashed beans. Add the cornmeal. Mix in cumin, paprika, cayenne, chili powder, and salsa. Cover, and cook 5 minutes.