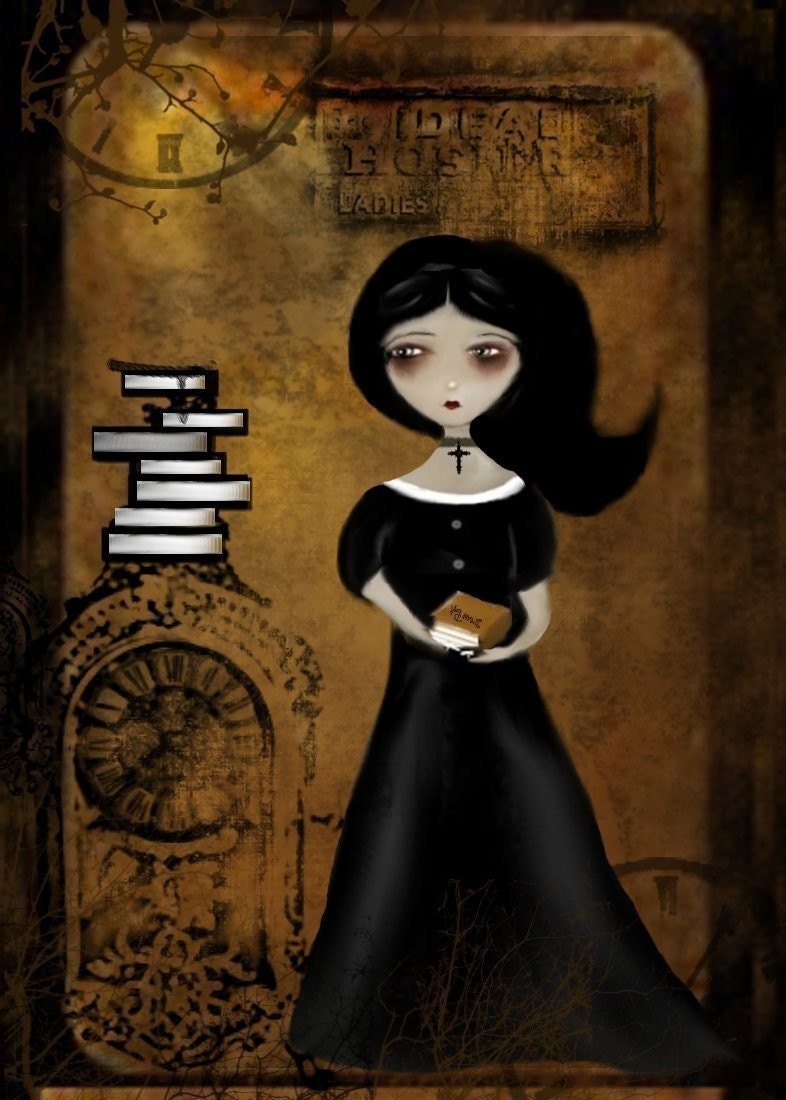 This goth-y bibliophile would make a great gift. On etsy.
My friend Jen over at
Custom-Built Life
posted recently about
rereading the Ramona books
with her daughter and it sent me on a journey of nostalgia. After I stopped crying like a Gilmore Girl, I decided to share some of my favorite books from childhood.
Now, I did enjoy the old standbys, very much.
I was a huge Judy Blume fan, loved Ramona in every Pest-y respect - I even got into that whole posse of kids - Henry Huggins, Otis Spofford and so on - great world-building, Beverly Cleary! I read a lot of Nancy Drew and even better, to me, Trixie Belden, all the Babysitters' Club I could get my hands on, and eventually moved into a somewhat more shameful period of Sweet Valley High and anything with a dorky guy with feathered hair on the cover.
I dabbled in some sci-fi like
Something Wicked This Way Comes
and I snuck in a little Stephen King from my dad's bookshelf on occasion (
The Body
still resonates). I read stuff we had to read in school, too, and liked most of it, especially Vonnegut, half of which was mysteriously absent from our school library, but I
digress
.
Anyway. I liked to read a lot. But for whatever reason, in between reading books that most of us would agree were at least "age appropriate", I was drawn to the most depressing stuff at the library even at a young age.
For example:
A Summer to Die by Lois Lowry
. Yeah, that pretty much sums up this book. It's all about a girl whose summer is spent watching her big sister die from leukemia. Don't get me wrong. There's a place for books like this, and I'm very glad this sub-genre exists (and Lois Lowry was a big part of my emotional growth for years).
But for me, this book sent me on a not-so-whimsical summertime obsession* centered on Death. Specially, Young Death. I had nothing good to say when I entered fifth grade in the fall in response to "What did you do this summer?" I was all, "Oh, me? I contemplated the fragile nature of existence and came to fully understand the idea that all of us, including you, and you, and you, are but one mutated cell away from death at any given moment. Oh, and we went to Sea World."
*See also:
A Taste of Blackberries, Bridge to Terabithia
...