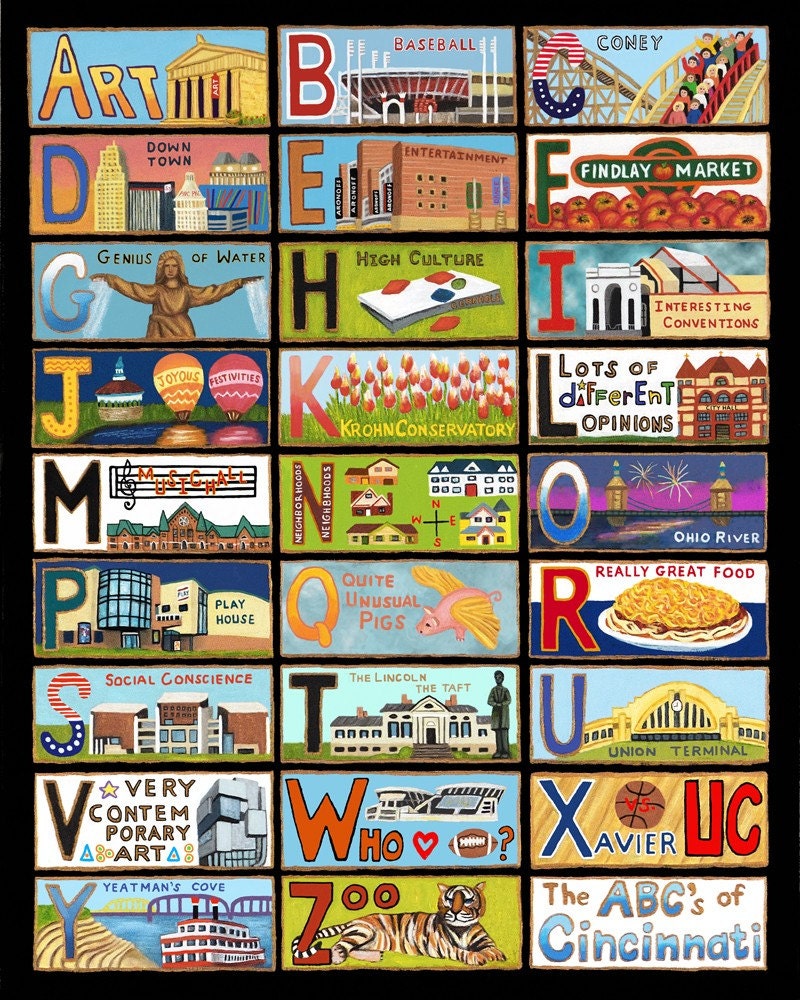 The ABCs of Cincinnati on etsy.
The Cincinnati blogging scene is vast, varied, sometimes vapid and rarely violet, but fear not. I'm going to make this easy for you. These are blogs you probably aren't reading, but definitely should.
Make Cincinnati Weird
Yes, please! Let's
do
that already. Or maybe we already have? I love so much about this blog. The self-dubbed
weirdos
who write this blog routinely report on
stuff that I had no idea about
, as an out-of-touch suburban mom of very young children. And it's
good
stuff. They could so easily default to finding the most obscure or shocking examples of batshit crazy going on around town, but they don't. How could you not like a blog that was founded on the idea, "The single guiding principle is that
diversity breeds strength
?" I love that these people acknowledge that for all the criticism about the melting pot that isn't Cincinnati, that true diversity does exist here if you look beyond the oft-repeated narrative about the people here.
Two Tykes on a Hike
One of the more original ideas I've seen for a blog in a long time, this is a fantastic
resource
, and not just for those wanting to take tykes on a hike. The mom who writes this blog explores local hiking options and gives you the scoop on things you can't really find out about on the typical trail or park map. Are there tons of excess branches that will snap your 2-year-old in the face? How steep and slippery are the slopes here, for shorter legs? Great information here, and it would useful for anybody looking for light hiking adventures (say, when your elderly aunt comes for a visit, or if launching yourself off the couch is a major event and you want to start slowly) that you've probably driven past a million times. I love that she finds so much woodsy adventure even in
urban
areas. It really highlights what a scenic, lush area we live in.
The Cincinnati Monocle
This
blogger
covers things you've heard about in passing on what passes for network news around here with more depth than you'd see in a newspaper that still has a budget. Real scoops, man-on-the-street observation, allll the dirt. I feel like I'm in the know after time spent here, and I'm grateful that I don't also feel manipulated in some way. The vibe is newsy in that way that news used to feel before it was bought and paid for by corporations and politicians. There's opinion, too, but not in that I'm-an-asshole-with-a-platform vibe that is so common online today. I truly believe that places like this are some of the last remaining shreds of hope for real information in the modern age. For every ten obese, cigar-smoking cats lounging on Barka loungers, the internet gives us one Cincinnati Monocle, and that's far better than none.
Other favs
I could go on (and on), but I'll wrap this up with a short list of other notable choices that maybe don't get as much exposure round these parts. You should check out
Downtownity
,
chickpeas please
, and
The City Flea
. And while he is often mentioned, it's for a very good reason, so definitely keep reading
City Kin
.
Fill me in if you know of a great blog based in Cincy that I'm missing.